Dr. William C. Wile
Source: Danbury Evening Post Obituary 1913
Born in Pleasant Valley, Duchess County, New York, on January 23, 1847, to the Reverend Benjamin Franklin Wile and his wife Betty Bulkeley Wile. Reverend Wile was the pastor of the Presbyterian Church in Pleasant Valley for thirty-nine years. The family, an old Dutch one, came originally from Amsterdam, Dr. Wile's mother is of English descent.
During his boyhood, he was a student at the College Hill school in Poughkeepsie, New York. He was still a schoolboy when the Civil War began. Intensely patriotic even at fifteen years of age, and fired by the spirit of the time, he enlisted as a private in Company G, One Hundred and Fiftieth Regiment, New York Volunteer Infantry, and went to the front as one of the youngest regularly enlisted soldiers in the Union Army and one of the bravest.
He remained at the front for two years. The battle of Gettysburg was the first fight that he took part in and his comrades bear evidence of the fact that the boy of fifteen displayed under fire all the courage of the mature man. This paragraph appears in a sketch that forms a part of the history of his regiment: "He went in as a private and came out as a private. His history is very simple – one of a boy trying to do his duty as well as he knew how."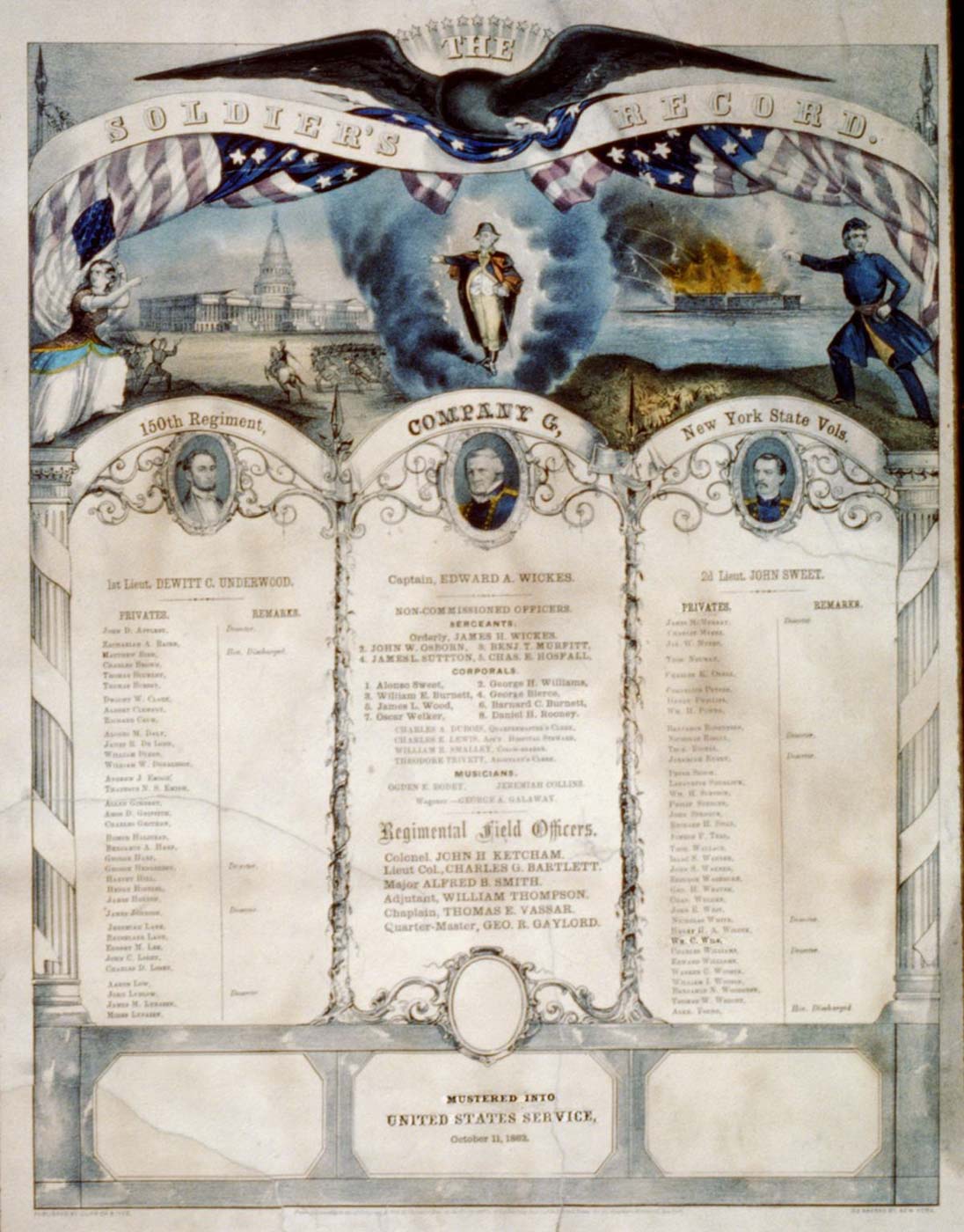 The young soldier was stricken with typho-malarial fever on the Rappahannock river shortly after the battle and quickly transferred to the Fairfax Seminary Hospital where he remained until he was convalescent at which time he was transferred to a camp for convalescing soldiers in Alexandria, Virginia. Thus, his first taste of the practice of medicine, which would be his lifelong pursuit, was as a patient. His recovery to full health was rapid and in time for him to join Sherman in his immortal march to the sea.
You can read the personal accounts of members of the Dutchess County Regiment on their march to Atlanta, specifically Dr. Wile's account on pages 118 – 130 in the publication The Dutchess County Regiment (150th Regiment of New York State Volunteer) In the Civil War, Its Story as Told by its Members, based upon the writings of Rev Edward O. Bartlett, printed; Danbury, CT, The Danbury Medical Printing Co. Inc., 1907, Copyright, 1907 William C. Wile, Danbury CT.
At the close of the war when he was mustered out in 1865, he told the boys that if any of them wanted to get married at any time to come to him and he would marry them free of charge. Quite a number of them, we are told, accepted this offer.
At the close of the war, William was mustered out with the regiment and then began the study of medicine in preparation for the life career that he had chosen. He spent a year or longer as a student in the office of Dr. John H. Dwan, a relative, in Pleasant Valley and then entered the medical department of the University of New York. He remained there for a year. His taste for army life let him enter the regular army as a hospital steward. After two years in the army, he resumed his medical studies and in 1870 he graduated from the University of New York with a degree of M. D.
In 1871 he was married to Eliza Scott Garrison, of New York, who bore him one child, Alice Buckley Wile.
Dr. Wile's medical career spanned far and wide beginning with a medical practice in New Brunswick, N.J. with a brief time in private practice in our very own Newtown, CT. A short time afterward he was called to the Medical Chirurgical College, Philadelphia, as a lecturer on the subject of mental and nervous diseases. Ill health compelled his resignation from that position and on September 24, 1887, he came to Danbury.