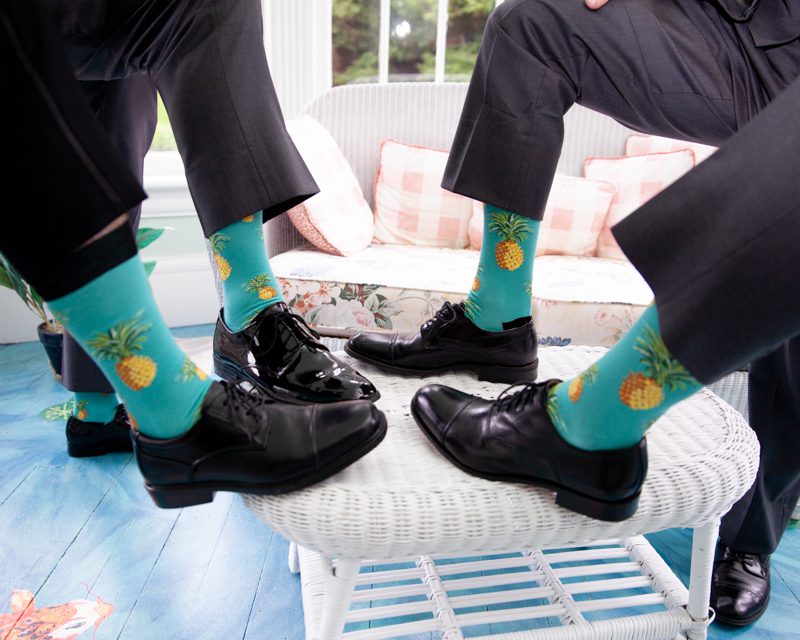 Pineapples for a Cuban Flair
Pineapples and aqua, the color of a clear Caribbean Ocean, was the theme for Rachel and Robert's wedding day. The bride incorporated those two elements into just about every detail, from dresses to socks, table numbers to dessert, guests found themselves entering a Caribbean dream right in the middle of Danbury CT. The groomsmen are showing off their colorful footwear as their photographer Zack Wussow takes pictures on our unique lily pond porch.
Rachel and her bridesmaids are enjoying having the Bride's Suite all to themselves as they get ready for the veranda wedding ceremony. This is the time when quiet moments are shared with those closest to you; it's also a time for shared laughter over past memories and those yet to be.
Some brides arrive at the mansion a couple of hours before the ceremony in order to have their hair and make-up done on site. Some brides will choose to have all their attendants' hair and make-up done on site as well and will purchase extra time to do so. Still others will come just to get dressed, having already done their hair and make-up. Whichever way they choose, every bride enjoys the moments in the Bride's Suite where it's just her and her girls.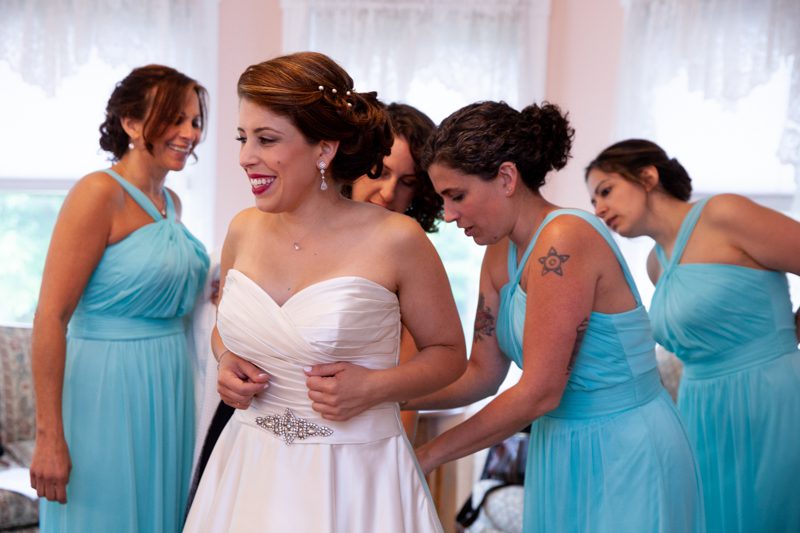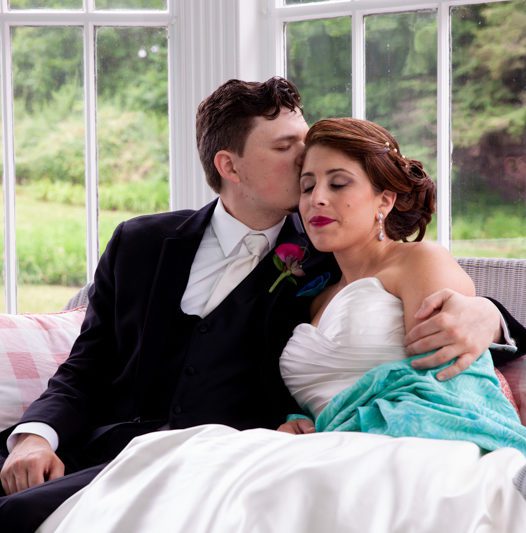 First look took place on the landing in front of our large picture window, taking advantage of the natural light streaming in. They moved on to our brightly painted lily pond porch, which was a perfect match for Rachel's aqua-themed color choice. The photo to the left is one of my all-time favorites, portraying young love surrounded by romance with a bold splash of color thrown into the mix, just as Robert and Rachel would imagine their future together will be.
Outdoor Veranda Ceremony
Rachel is escorted from the mansion foyer to the veranda by the two most important people in her life, besides her groom, Robert. Rachel is glowing as she walks down the aisle to join Robert and exchange their wedding vows. The burst of color from her bridal bouquet combined with the aqua of her shawl create the image of a vibrant young woman ready for the next stage of her life.
The veranda is one of five locations where your wedding ceremony can be held, the veranda can hold up to 100 or so seated guests using the mansion chairs included in the rental package. Brides can decorate with lights or flowers hung by established hooks between each Doric column. Since the veranda is completely covered it is ofttimes used as the backup location in our couple's good weather/bad weather plans.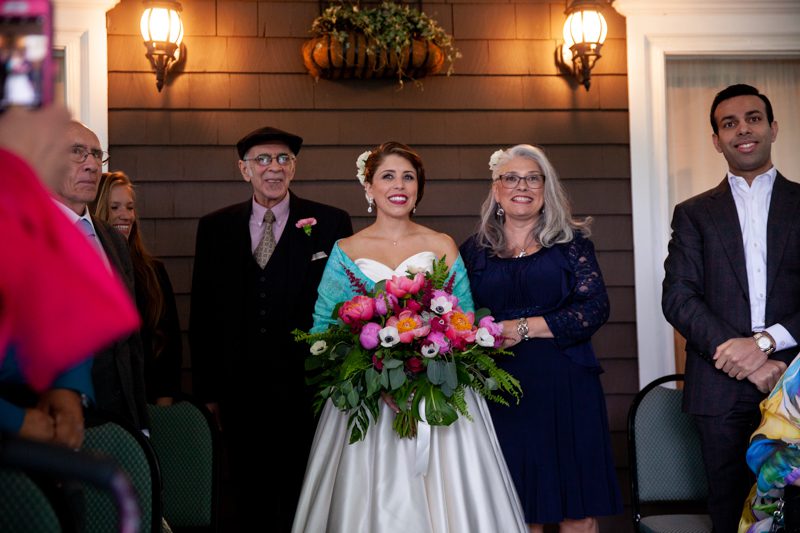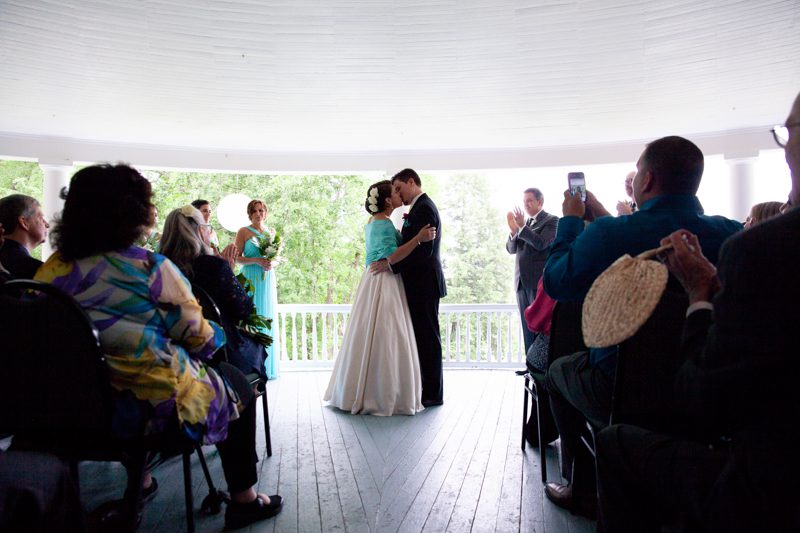 Robert and Rachel chose to have their ceremony with the view of our manicured grounds at their back for all their guests to see. Their good friend, who happens to be wheelchair bound, was asked to be the officiant and was able to access the veranda through our handicap access ramp at the front of the building. What a great way to incorporate someone you love and respect into your wedding day than to ask them to preside over the wedding ceremony and exchange of vows.
As part of my blog, I will sometimes ask my couples to participate in our Newlywed Quick 10 survey, it's a series of questions intended to see what the happy couple remembered most and what they would change if they could go back and do it again. Go to my blog post for Rachel & Robert's Newlywed Quick 10 to see what they answered.
Read Rachel's review of Tarrywile Mansion on our Testimonials page.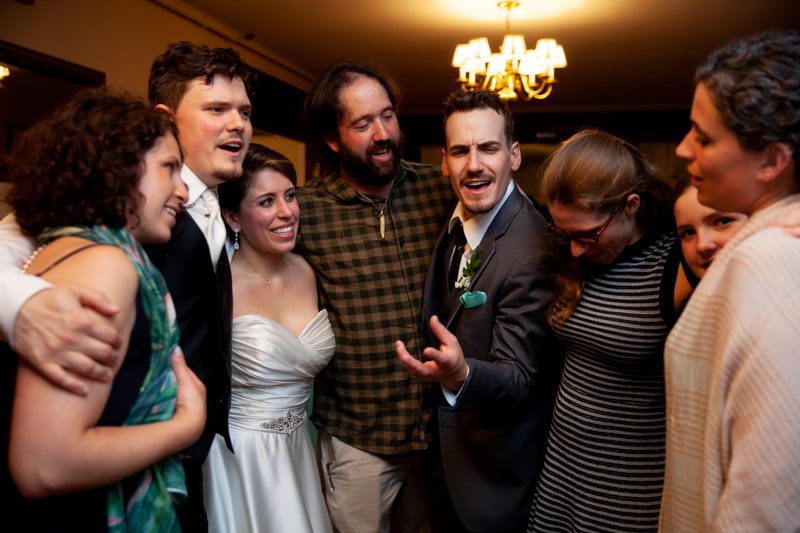 The vendors hired by Rachel and Robert for their wedding day were:
Caterer: Westwind Catering || Photography: Zack Wussow Media || Entertainment: DJ IBG Ian Gallagher
Caterer from our preferred vendors' list