Seven Considerations for Your
Celebration of Love
Congratulations on your engagement! Now that all couples are free to honor their lifelong commitment to each other, it's time to celebrate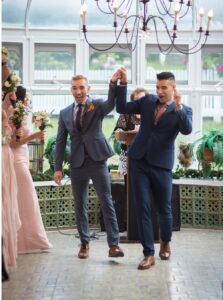 your love with a beautiful, memorable wedding. While some couples may want to embrace many of the customary marriage traditions, not all of them hold up well in today's world. Choose the traditions that bring you joy or create new ones that are all your own!
Keep the following details in mind as you and your partner begin planning your special day.
1. The Wedding Budget
Customary practices such as having the bride's parents pay for the wedding have evolved with the times. Now it's more common for family members on both sides and the couples themselves to share in wedding costs. When you've determined your budget, you can move on to the fun parts of planning!
2. Attire that Matches Your Personal Style
You want to feel both comfortable and fabulous in your wedding day attire. If you both want to wear dresses, you can. Don't worry about upstaging each other; choose the dream dress that showcases your individual style. You can keep your attire secret until the big day or select outfits together to match themes and colors. If you both want to wear suits, consider colors that complement each other, and you can coordinate your tie, pocket square, or shirt patterns for a cohesive look.
3. The Wedding Party
Wedding parties are no longer limited to "bridesmaids" and "groomsmen;" there's no need to worry about separating your friends and family by gender on either side. You and your partner can have separate wedding parties or one large group. Have people standing next to you who have supported your relationship and supported you in life. Or you can forgo a wedding party altogether!
4. Walking Down the Aisle
While traditional weddings usually feature a bride being escorted down the aisle with the groom waiting to receive her at the altar, you're free to choose who walks down the aisle. You may decide that you each want to be escorted by someone special, or you can walk down the aisle together! Do what feels right for you both and make your celebration your own.
5. Traditions to Cut or Keep
First dance, cake-cutting, bouquet toss – keep the traditions that are meaningful to you and leave the rest behind! Many of the customary ceremony readings and reception activities may not apply to your relationship. Personalize your wedding ceremony and reception with the readings, music, and traditions that are significant to you. Many gender-neutral wedding ceremonies and non-religious readings are available if that's what more accurately represents you as a couple.
6. Hiring Vendors
It's your special day, so keep your expectations high. Whether it's your cake, flowers, or music, you're paying for a service. You should be treated with the kindness and equality that you deserve. Look for professionals in your area who showcase diversity or seem to welcome same-sex weddings. Selecting venues and vendors that happily accommodate same-sex couples is key to the success of your event.
7. Venues and Receptions
The ceremony and reception sites should provide a beautiful backdrop for your celebration. Will you have an indoor or outdoor ceremony? Can the venue accommodate both your budget and your expected number of guests? Picking the perfect venue is an essential part of your wedding plan.
At Tarrywile Mansion, we specialize in smaller, more intimate weddings, with no guest minimums. Our beautiful indoor and outdoor ceremony and reception sites include a lovely grape arbor, a charming gazebo, an elegant conservatory, and the mansion's graceful, Victorian veranda.
A wedding is all about celebrating the love that you and your partner share. Contact our office today to learn more and start planning your event!