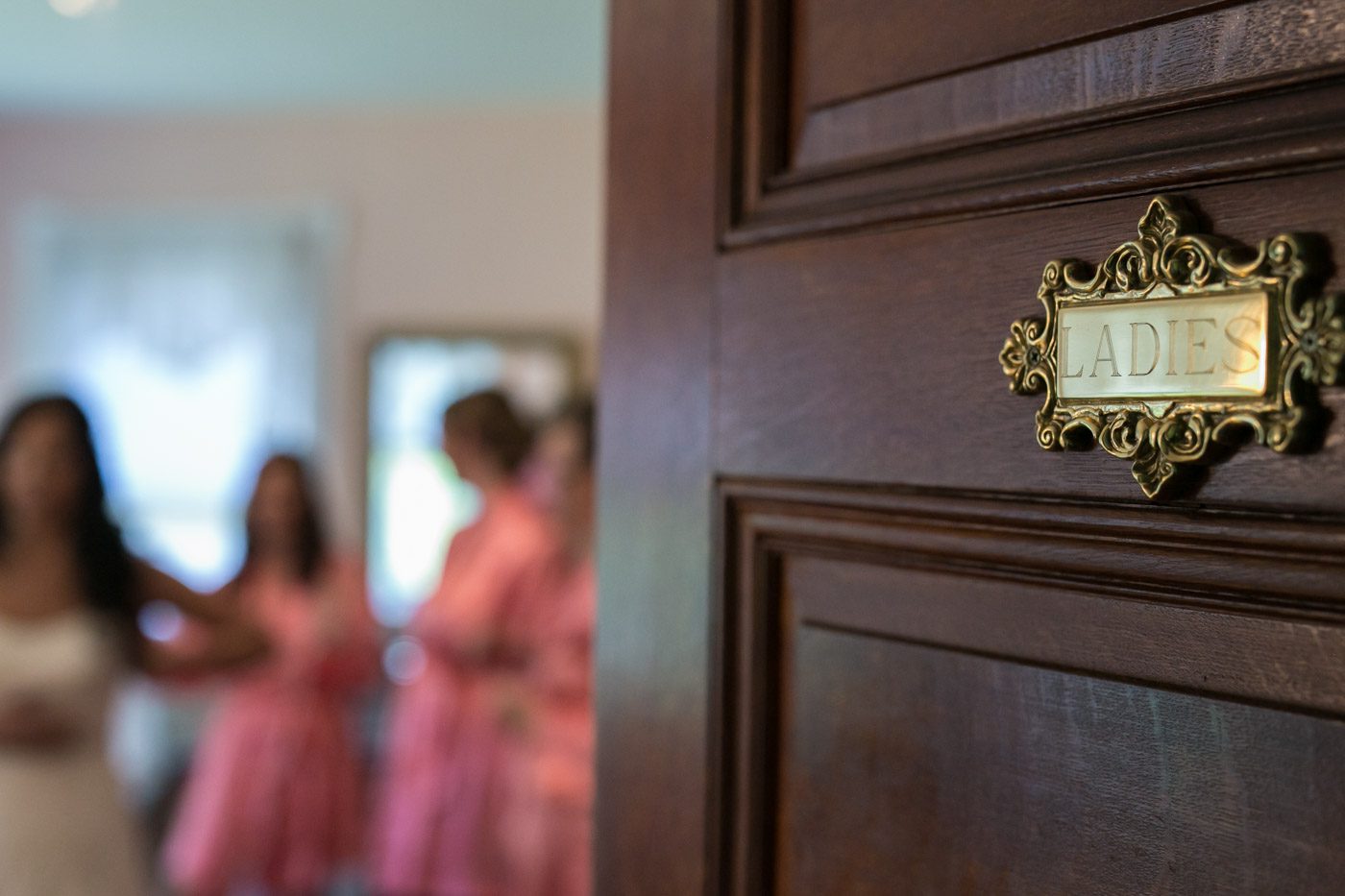 Summer Tent Wedding
Courtney and Jeff had a perfect day for their June 18, 2016 tent wedding. The weather was 84 degrees and sunny, with not a cloud in the sky for their outdoor wedding ceremony.
Courtney and her five attendants arranged to have their hair and makeup done in our bride's suite, the bride gave all her girls a matching coral silk robe so they would be comfortable and relaxed while preparing for the wedding ceremony. It also helped that there were a couple of bottles of bubbly available for consumption.
The next stage was getting dressed and assisting Courtney into her gown. At some point, her ladies managed to figure out how to lace up the back of the gown because when she stepped out for pictures there was not a hair out of place. Photography by Dave Noonan; Modern Fotographic.
Outdoor Wedding Ceremony
The location Courtney and Jeff chose for their ceremony is a beautifully level lawn area with our gazebo in the background. They used a beautifully hand-crafted arch decorated with pink peonies and coral roses to match the decor used throughout the wedding ceremony and reception.
The chairs chosen for the ceremony and reception were white wooden folding chairs rented from All Season Tent and Party Rentals. They added a nice touch to the ceremony location, especially with the shepherd's hooks decorated with coordinating floral arrangements.
The entire setting was well thought out and coordinated, beginning with the color choices and floral designs down to the printed cocktail napkins. The floral designer chosen for their wedding was Cheryl Bartholomew.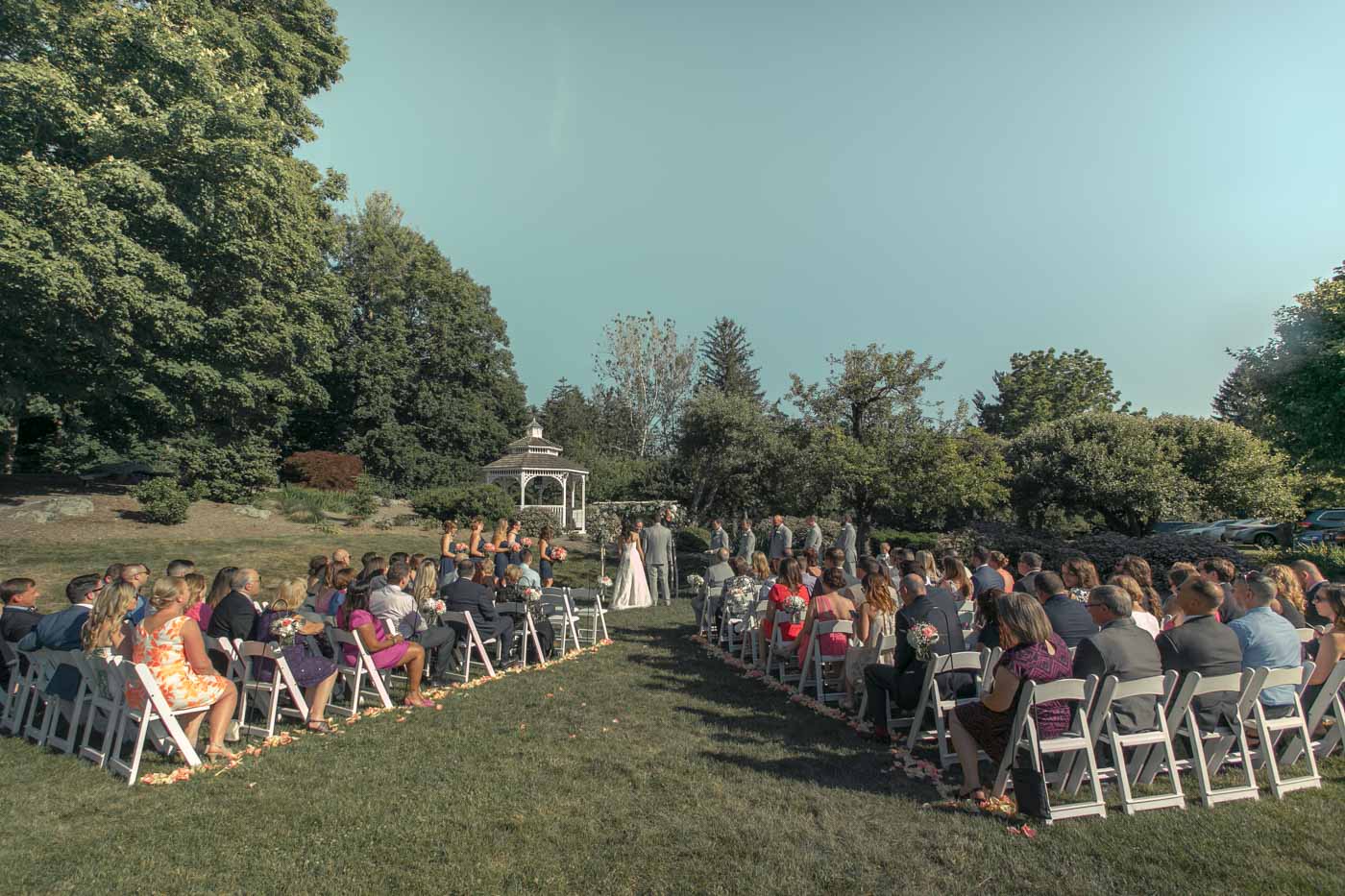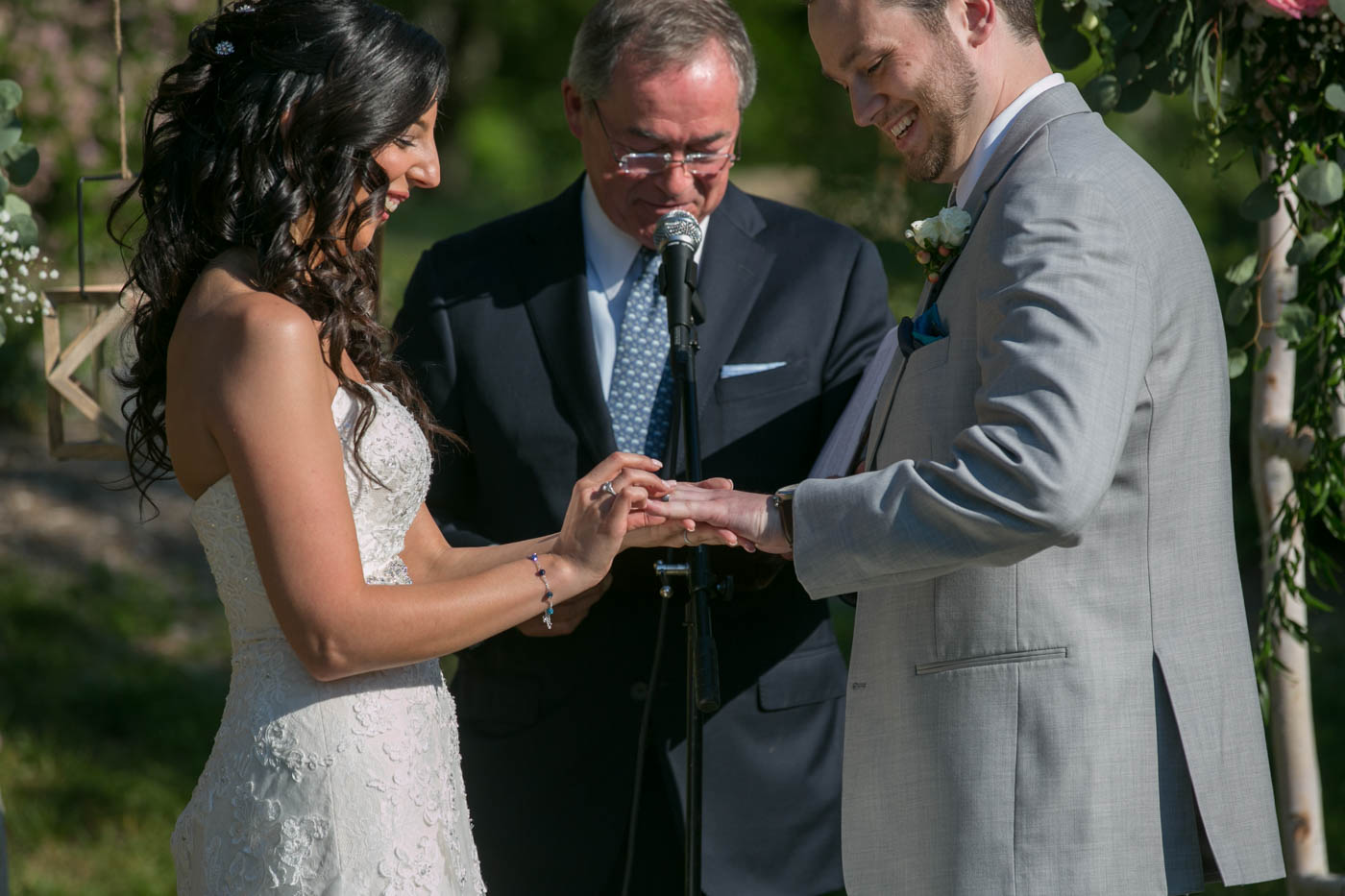 Ceremony Details
The bride made a creative, humorous poster that outlined the timeline of the ceremony as follows:
Seating of our Amazing Family
Stunning Ladies Hit the Aisle
Tiny Humans Steal Your Hearts
Cue Breathtaking Bride
Welcome by JOP Pat Tiani
Readings by Our Wonderful Friends
Heartfelt Vows
Exchange of Something Sparkly
Pronouncement of Happy Couple
Awkward Public Kiss
We are Married
Let's Party!
Cocktail Hour
Courtney and Jeff hired a singer-pianist to provide ceremony and cocktail music. After the ceremony, while the wedding party was off taking pictures the guests gathered around the musician, located on the gazebo lawn, and enjoyed cocktails and hors d'oeuvres.
We offer a choice of locations for cocktail hour: the veranda, mansion foyer, conservatory, and gazebo lawns. You can create the wedding of your dreams with so many options to choose from if you book with Tarrywile Park & Mansion.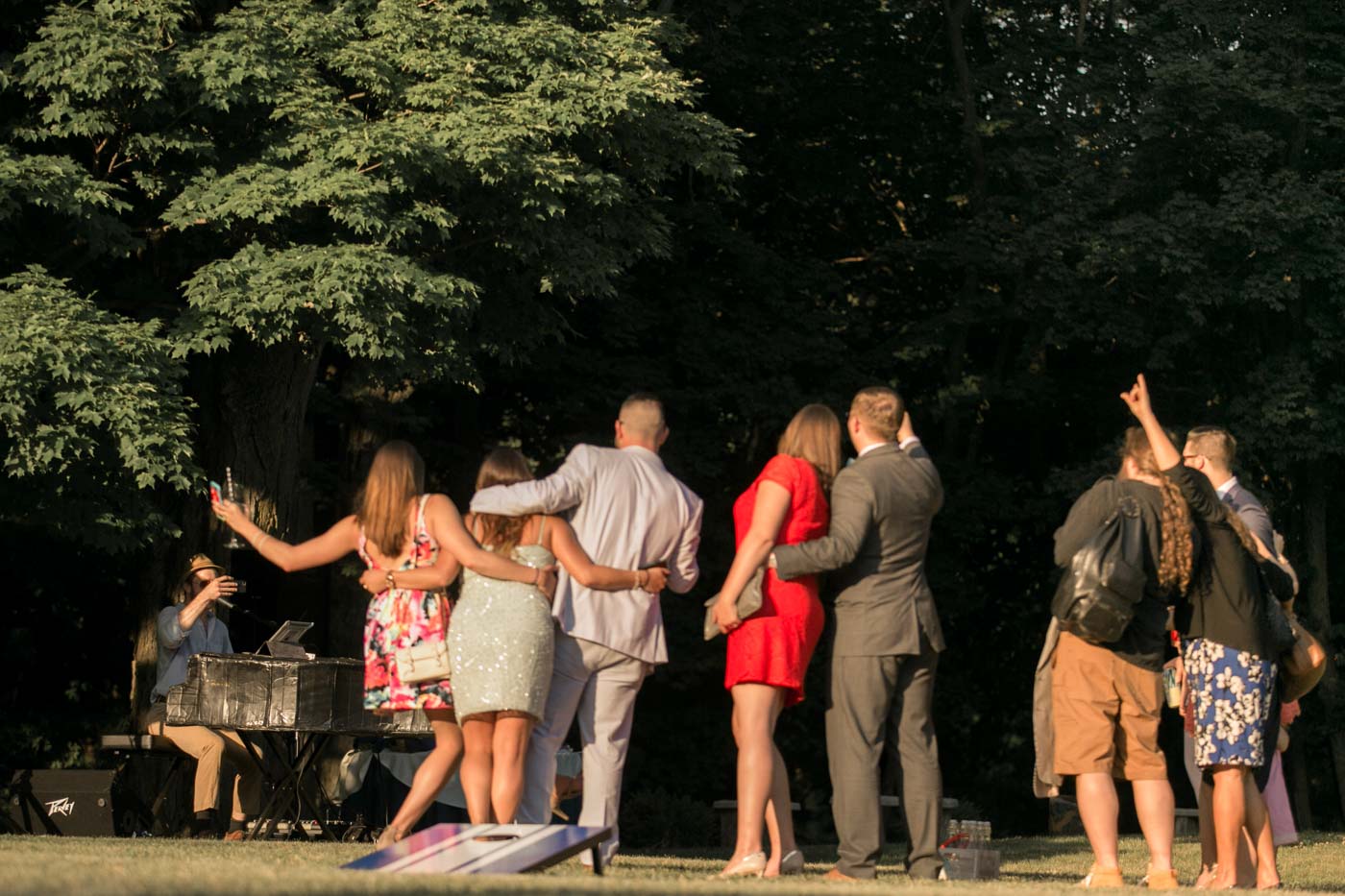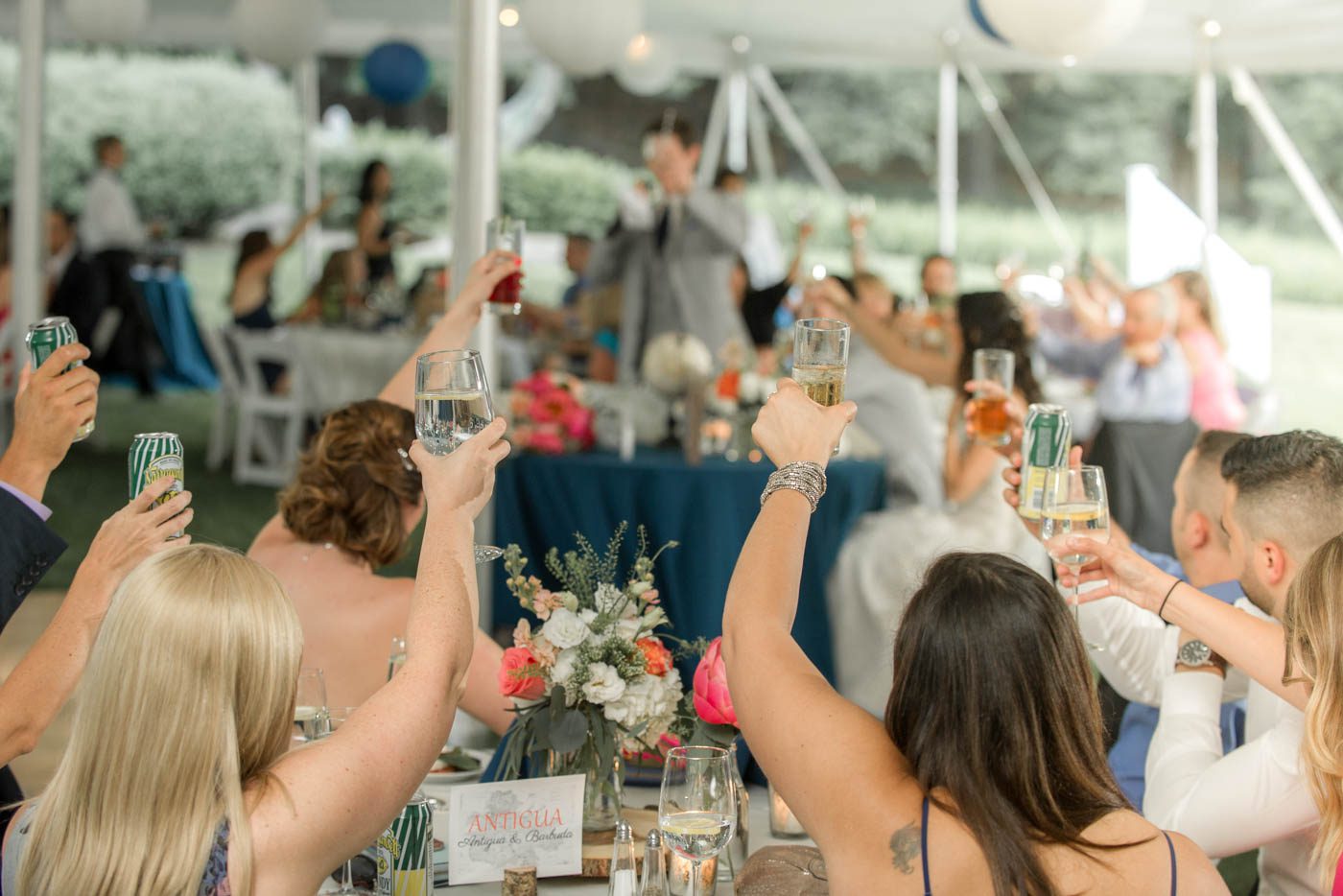 Tent Reception
Courtney and Jeff knew they wanted to have an outdoor ceremony and tent reception so that all their guests could be seated together. That meant renting a tent with everything that entails, it to be installed on our conservatory lawn. Their final count of guests was 105. The bride and groom along with Courtney's mom and dad decided to hire Chris Angione of Carriage House Events and Catering, one of our approved caterers, to orchestrate their entire wedding day. He and his crew handled everything from tent rentals to food and alcohol and ended with breakdown and clean-up.
The music for their reception was provided by Paul Lacano of James Daniel Entertainment, another of our preferred vendors.